Your RIDE DAY information!
Congratulations on choosing Champion's Ride Days for your

Ride Day Experience!!
We've gone paperless!!
–> Click Here to fill out your Online Waiver form….. you can do it now, or closer to the date of your ride, it is up to you!
**Once it is completed you will receive a confirmation email to your inbox. Flag that email to show our Sign On Crew when you arrive for your Intro Sessions!
Some key points to keep in mind are:
The EAST CIRCUIT does

NOT

 operate out of the Welcome Centre at The Bend
There is NO Power or garages for shade. Please bring your own generators and shade tents.
Sign on will begin from 7.00 am in the Control Tower
Cafe will be open if you need a coffee before you start!
Full motorcycle safety gear is required including: Full leathers (1 or 2 piece that zip round completely), motorcycle boots that are mid-calf length, motorcycle gloves and helmet. If you need to hire some gear CLICK here for options.
Bring your drivers licence or MA Licence with you on the day for ID purposes
Your East Circuit Ride Day
The Schedule is:
When you arrive: Park your bikes behind the Control Tower and come in to the Tower for Sign On.
7.00am: Arrive and Sign On
7.30am: Scrutineering of your bike  See what we check here!
Park up your bike near Control Tower
8.40am: Riders Briefing which is compulsory for all riders to attend in the Control Tower
9.00am: Bikes on track
Afterwards, you can head off with a big smile on your face, with the dates for the ride days in your pocket for next time or check them out here!
Check out the track!
The Bend Motorsport Park is the new FIM-Spec Internationally acclaimed circuit. The track configuration you will be riding is the East Circuit. It is 3.93km and has 22 corners for you and your bike to enjoy!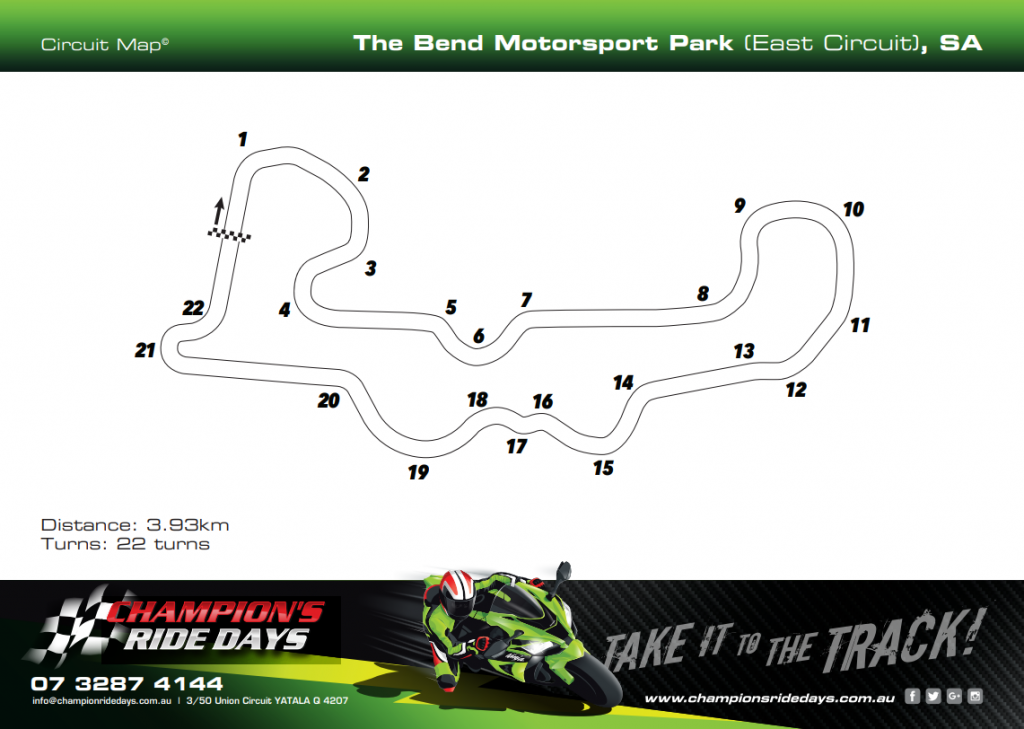 If you have any questions or concerns, please email or call us on 07 3287 4144
See you at the Track!
The Team @ Champion's Ride Days

PO Box 512, Sanctuary Cove, QLD, 4212
P: 07 3287 4144
(Hours: 9.00am-4.00pm QLD time)
E: info@championsridedays.com.au
© 2021 Champions Ride Days Pty Ltd. All rights reserved. (ABN: 64 106 662 462)