Your brekky & bikes information!
Congratulations on choosing Champion's Ride Days
for your Brekky and Bikes Experience!!
We've gone Paperless!!
–> Click Here to fill out your Online Waiver form….. you can do it now, or closer to the date of your ride, it is up to you!

**Once it is completed you will receive a confirmation email to your inbox. Flag that email to show our Sign On Crew when you arrive for your Brekky Laps!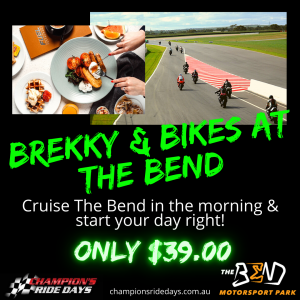 Some key points to keep in mind are:
– Sign on will begin from 7.00 am at Garage 25
– Cafe will be open if you need a coffee before you start!
– Your standard riding gear is all that is needed, motorcycle jacket and pants, motorcycle boots, gloves and helmet
– Bring your drivers licence with you on the day for ID purposes
– Your MA Day Licence (track licence) is included as part of your fee, it is complimentary
Brekky & Laps Info
Your Experience gets you approx 20 minutes cruising the circuit (behind a pace bike) plus a delicious breakfast at the APEX Restaurant.

The Schedule is:

When you arrive: Park your bikes in the main race paddock area, next to the Welcome Centre.
7.00am: Arrive & Sign On in Garage 25
7.30am: Briefing in Garage 25
8.00am: Head out into Pit Lane and get ready for your ride
8.05-8.25am: Cruise Laps
8.30am: Brekky is served in the APEX restaurant
All bikes are welcome, as long as they are road registered. Riders can wear any suitable motorcycle clothing (including motorcycle jacket, jeans, motorcycle boots and gloves, and full face helmet) as the laps will be at road speeds. No pillions at this stage folks.
Breakfast* includes:
Bacon & egg roll: Scrambled egg and crispy bacon on a toasted milk bun, tomato relish and served with two hash browns
A choice of Juice
Coffee can be purchased from the Cafe.
If you have a friend or partner who is just interested in Breakfast without the laps, please call FUEL Restaurant to book in on 8165 5730.
Check out the track!
The Bend Motorsport Park is the new FIM-Spec Internationally acclaimed circuit. The track configuration you will be riding is the International Circuit. It is 4.95km and has 18 corners for you and your bike to enjoy!
If you have any questions or concerns, please email or call us on 07 3287 4144
See you at the Track!
The Team @ Champion's Ride Days

PO Box 512, Sanctuary Cove, QLD, 4212
P: 07 3287 4144
(Hours: 9.00am-4.00pm QLD time)
E: info@championsridedays.com.au
© 2021 Champions Ride Days Pty Ltd. All rights reserved. (ABN: 64 106 662 462)