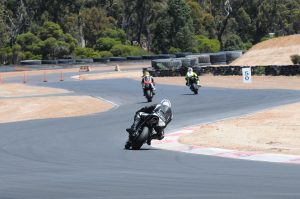 Bring ya Mate for FREE to a racetrack near you!
If they haven't ridden with Champions before they can come for free!!
COLLIE MOTORPLEX – Sat 14 Dec
Has your mate been giving excuses?!
Not sure if it is for them
Not sure if their bike will make the distance!
Not sure if they can handle 7 sessions
Not sure if they can afford it
A free spot gives them a chance to enjoy the day and see if it is for them!!
If you have any questions don't hesitate to ask👍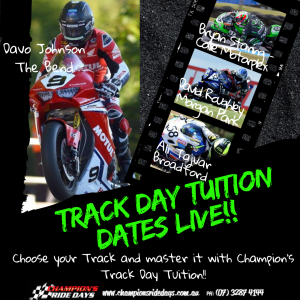 Tuition Dates now LIVE!!
Broadford Raceway – Sat 7th Dec – with Ali Tajvar
Collie Motorplex – Sat 14th Dec – with Bryan Staring
The Bend – Mon 16th Dec – with Davo Johnson (Isle of Man TT Champ!!) and Billy McConnell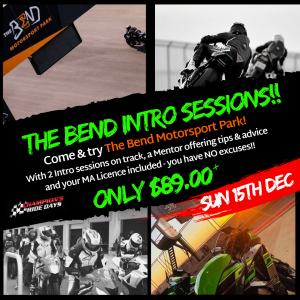 The Bend Intro Sessions!!
Your Intro Session includes: 2 x 20 minutes on track, your MA licence and a mentor with you offering tips and advice. If you love it, you can pay the additional $236 and ride all day!
Enjoy The Bend for a couple sessions and see what everyone raves about!!