Champions Ride Days – Booking Confirmation
Congratulations on choosing Champion's Ride Days for your track experience at The Bend – EAST CIRCUIT!!
We've gone Paperless!!
–> Click Here to fill out your Online Waiver form….. you can do it now, or closer to the date of your ride, it is up to you!
**Once it is completed you will receive a confirmation email to your inbox. Flag that email to show our Sign On Crew when you arrive for your Ride!
Some key points to keep in mind are:
The EAST CIRCUIT does

not

operate out of the Welcome Centre at The Bend.
There is NO Power or garages for shade. Please bring your own generators and shade tents.
Please see Track Info for more details and information
Gates open from 7.00 am
Cafe will be open
Leathers are mandatory, or you can easily hire a kit of Safety Apparel Here!
Bring your drivers licence and/or MA licence with you on the day for ID purposes
Full Dunlop Tyre Service Available with fitting, sales and advice. Click Here for Tyres Online!
Track Information
Each track has different requirements regarding power, garaging, gate opening times, fuel availability etc.
The EAST CIRCUIT does

not

operate out of the Welcome Centre at The Bend.
There is NO Power or garages for shade. Please bring your own generators and shade tents.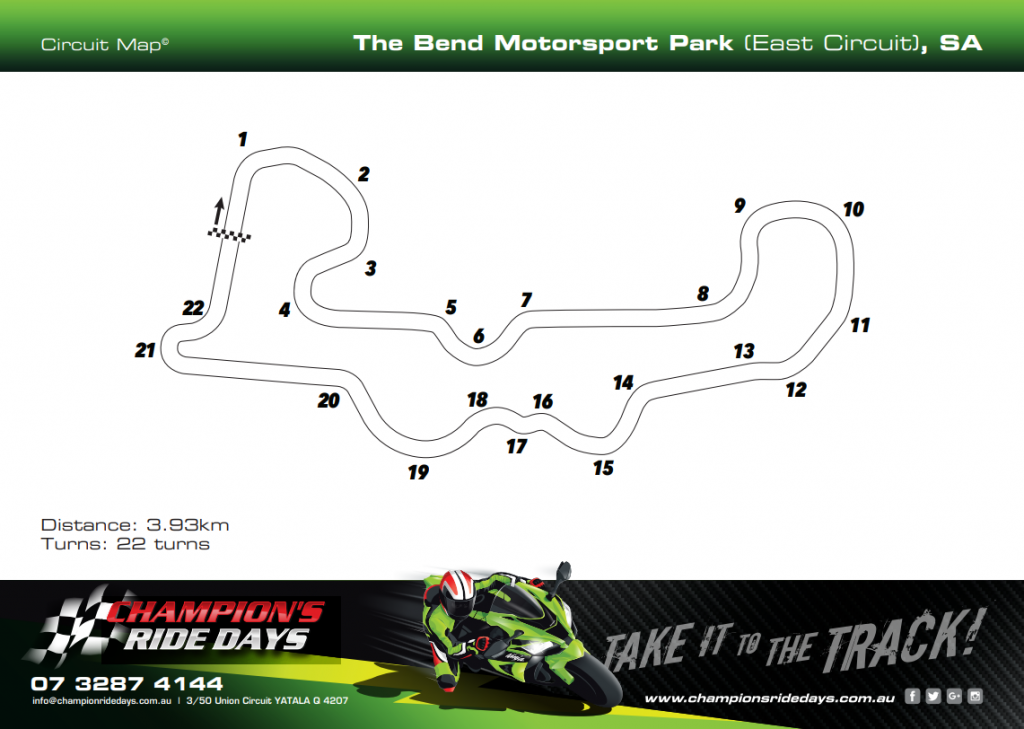 Track Day Tuition
If you are new to ride days or want to be smoother on the track, then we highly recommend Track Day Tuition to start you off the right way!
If you're looking to enhance your riding, hone your skills, or just master that one corner you have always wanted at your favourite race track, then Champion's Ride Days Track Day Tuition is the course for you – available in three levels designed to meet all different riding abilities and experience levels. We advise all riders, no matter their experience or previous training, to start at Level 1, as this offers you the chance to refresh your current skills. Your mornings are spent doing drills and exercises on track, including classroom discussion on Braking, Cornering, Vision through corners and Body Position. The afternoon sessions are all about feedback. Every session you are on track, your Instructor is focusing on you and your riding, for feedback and enhancement.

-> Please note it is only available on selected dates, with a limited number of riders. So check out Tuition for your next ride day!! Add it to your booking online or give us a call in the office!
Hire Gear Information
Leathers are mandatory at the racetrack. One or 2-piece leathers are acceptable, as long as 2 piece leathers zip together, all the way around.Champion's Ride Days offers a Berik Hire Kit including Leathers, Boots, Gloves and Helmet for $75.00 for the day. If you need hire gear then give us a call or add it to your booking online, so we can book your sizes and have it all ready for you at the track!
** We highly recommend wearing Compression Gear under your gear as it is easier to get in and out of leathers, plus more hygienic…great tip for the summer months!** See our compression gear online HERE!
Cancellation Policy
Regardless of the reason on the day there are no refunds or reschedules within 7 days of the event. Unless you have taken out

What If Cover

, at the time of your booking. More than one week (7+ days) prior to the event date you are entitled to cancel or reschedule, with a $25 reschedule fee. Credits or reschedules are at Champion's Ride Days' discretion, and if given, must be used within 12 months of the event date.

What if cover is designed to be purchased at the time of booking and covers you to not lose the cost of your ride day due to circumstances that are out of your control. Whatever the circumstances, the What If Cover gives you peace of mind that you have flexibility to move your ride day to another date on the calendar. It enables a credit to be issued for 12 months at no additional cost to you, no stress and no worries! You can use your "What If" Cover up until the Riders Briefing of the event that you have the cover for.

To execute your What If Cover, just email, call us before the event, or let us know at the ride day before the Briefing, if you wish to utilise it. Then we will send you a credit coupon valid for 12 months, to use when you are ready!

Please take the time to read our Terms and Conditions regarding weather, cancellation policy etc
If you have any questions or concerns, please email or call us on 07 3287 4144
See you at the Track!
The Team @ Champion's Ride Days

PO Box 512, Sanctuary Cove, QLD, 4212
P: 07 3287 4144
(Hours: 9.00am-4.00pm QLD time)
E: info@championsridedays.com.au
© 2022 Champions Ride Days Pty Ltd. All rights reserved. (ABN: 64 106 662 462)